TUFFAK® GP
TUFFAK GP polycarbonate sheet is a polished surface, UV stabilized, transparent polycarbonate product. It features outstanding impact strength, superior dimensional stability, high temperature resistance, and high clarity. This lightweight thermoformable sheet is also easy to fabricate and decorate. The terms of the TUFFAK GP Limited Product Warranty is available upon request.
THICKNESS

.060" – .500"

WIDTH

48" – 120"

LENGTH

48" – 120"
Opaque
Translucent
Transparent
Indoor
Outdoor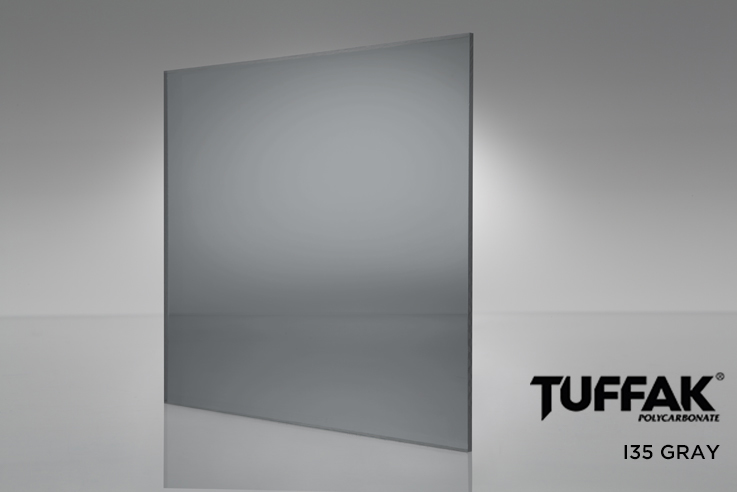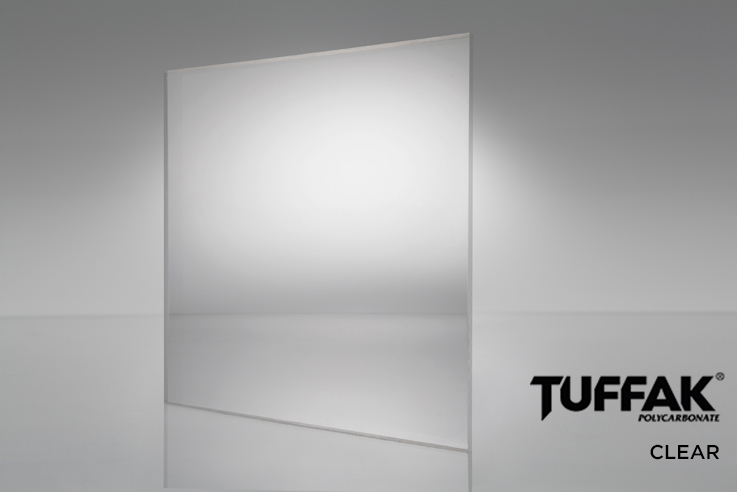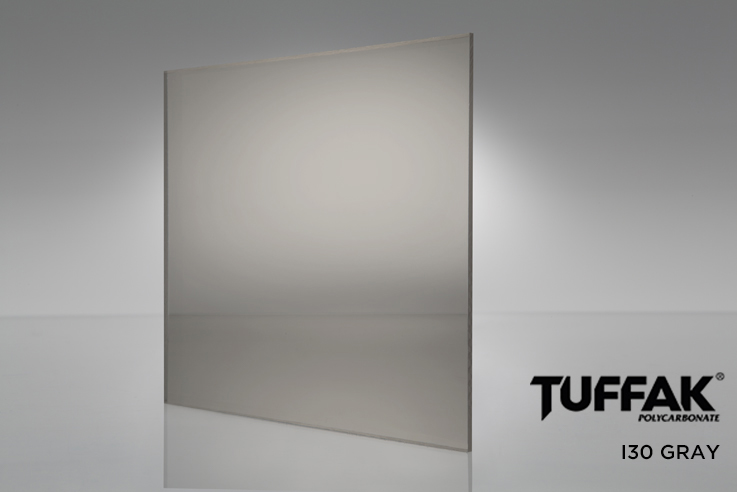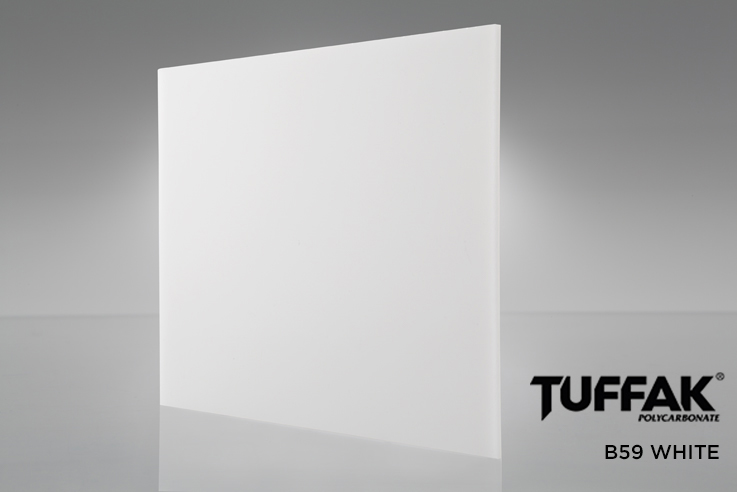 AVAILABLE COLORS
Custom colors available.
*Colors on screen may not reflect exact matches to physical sheets.
*Non-Stock colors, patterns or sizes may require a minimum quantity order.
| ITEM # | COLORS | PATTERN/TEXTURES | MASKING | THICKNESS (in.) | SIZE (in.) | SQ FT | PACK QTY | SKID QTY | REQUEST |
| --- | --- | --- | --- | --- | --- | --- | --- | --- | --- |
| 84416631 | Black L10 | | Printed Masking / Plain Masking | .060 | 48" x 96" | 4608 | | | |
| 84417409 | White B59 | | Printed Masking / Plain Masking | .060 | 48" x 96" | 4608 | | | |
| 84480607 | Gray I30 | | Printed Masking / Plain Masking | .060 | 48" x 96" | 4608 | | | |
| 87551947 | Black L10 | | Printed Masking / Plain Masking | .093 | 48" x 96" | 4608 | | | |
| 58100173 | Gray I30 | | Printed Masking / Plain Masking | .118 | 48" x 96" | 4608 | | | |
| 58100262 | Bronze K09 | | Printed Masking / Plain Masking | .118 | 48" x 96" | 4608 | | | |
| 58100335 | Black L10 | | Printed Masking / Plain Masking | .118 | 48" x 96" | 4608 | | | |
| 84400654 | Gray I35 | | Printed Masking / Plain Masking | .118 | 48" x 96" | 4608 | | | |
| 87592619 | Gray I30 | | Clear Hi-Tack - 2 sides | .118 | 48" x 96" | 4608 | | | |
| 58100181 | Gray I30 | | Printed Masking / Plain Masking | .177 | 48" x 96" | 4608 | | | |
| 58100270 | Bronze K09 | | Printed Masking / Plain Masking | .177 | 48" x 96" | 4608 | | | |
| 58100343 | Black L10 | | Printed Masking / Plain Masking | .177 | 48" x 96" | 4608 | | | |
| 58101749 | Bronze K09 | | Printed Masking / Plain Masking | .177 | 48" x 96" | 4608 | | | |
| 87530176 | Bronze K09 | | Printed Masking / Plain Masking | .177 | 72" x 96" | 6912 | | | |
| 87535283 | Gray I35 | | Printed Masking / Plain Masking | .177 | 48" x 96" | 4608 | | | |
| 87560407 | Gray I30 | | Printed Masking / Plain Masking | .177 | 48" x 72" | 3456 | | | |
| 58100203 | Gray I30 | | Printed Masking / Plain Masking | .220 | 48" x 96" | 4608 | | | |
| 58100289 | Bronze K09 | | Printed Masking / Plain Masking | .220 | 48" x 96" | 4608 | | | |
| 84780015 | Gray I30 | | Printed Masking / Plain Masking | .220 | 48" x 96" | 4608 | | | |
| 84780228 | Bronze K09 | | Printed Masking / Plain Masking | .220 | 48" x 96" | 4608 | | | |
| 87442544 | Black L10 | | Printed Masking / Plain Masking | .220 | 48" x 96" | 4608 | | | |
| 87554415 | Gray I30 | | Printed Masking / Plain Masking | .220 | 48" x 96" | 4608 | | | |
| 87555861 | Bronze K09 | | Printed Paper / Plain Paper | .220 | 48" x 96" | 4608 | | | |
| 87565301 | White B54 | | Printed Masking / Plain Masking | .220 | 48" x 96" | 4608 | | | |
| 87567339 | Gray I30 | | Printed Paper / Plain Paper | .220 | 48" x 96" | 4608 | | | |
| 58100211 | Gray I30 | | Printed Masking / Plain Masking | .236 | 48" x 96" | 4608 | | | |
| 58100254 | Gray I35 | | Printed Masking / Plain Masking | .236 | 48" x 96" | 4608 | | | |
| 58100297 | Bronze K09 | | Printed Masking / Plain Masking | .236 | 48" x 96" | 4608 | | | |
| 58100300 | Bronze K09 | | Printed Masking / Plain Masking | .236 | 72" x 96" | 6912 | | | |
| 58100351 | Black L10 | | Printed Masking / Plain Masking | .236 | 48" x 96" | 4608 | | | |
| 87325068 | Gray I35 | | Printed Masking / Plain Masking | .236 | 60" x 96" | 5760 | | | |
| 87533140 | Gray I35 | | Printed Masking / Plain Masking | .236 | 72" x 96" | 6912 | | | |
| 87555985 | Gray I30 | | Printed Masking / Plain Masking | .236 | 60" x 96" | 5760 | | | |
| 87569064 | Bronze K09 | | Printed Paper / Plain Paper | .236 | 60" x 96" | 5760 | | | |
| 87574157 | Gray I30 | | Printed Masking / Plain Masking | .236 | 96" x 48" | 4608 | | | |
| 58100238 | Gray I30 | | Printed Paper / Plain Paper | .375 | 48" x 96" | 4608 | | | |
| 58100319 | Bronze K09 | | Printed Paper / Plain Paper | .375 | 48" x 96" | 4608 | | | |
| 58442937 | Gray I30 | | Printed Masking / Plain Masking | .375 | 48" x 96" | 4608 | | | |
| 58442953 | Bronze K09 | | Printed Masking / Plain Masking | .375 | 48" x 96" | 4608 | | | |
| 87551904 | Bronze K09 | | Printed Masking / Plain Masking | .375 | 48" x 120" | 5760 | | | |
| 58100246 | Gray I30 | | Printed Paper / Plain Paper | .500 | 48" x 96" | 4608 | | | |
| 58100327 | Bronze K09 | | Printed Masking / Plain Masking | .500 | 48" x 96" | 4608 | | | |
| 58442945 | Gray I30 | | Printed Masking / Plain Masking | .500 | 48" x 96" | 4608 | | | |
| 58442961 | Bronze K09 | | Printed Masking / Plain Masking | .500 | 48" x 96" | 4608 | | | |
| 87549004 | Clear | | Printed Masking / Plain Masking | .500 | 72" x 96" | 6912 | | | |
| 87554504 | Clear | | Printed Paper / Plain Paper | .500 | 48" x 96" | 4608 | | | |
| 87562981 | Gray I30 | | Printed Masking / Plain Masking | .500 | 48" x 120" | 5760 | | | |
| 87569560 | Clear | | Clear Hi-Tack - 2 sides | .500 | 144" x 48" | 6912 | | | |
| 87585396 | Clear | | Printed Paper / Plain Paper | .500 | 96" x 48" | 4608 | | | |