TUFFAK Lumen XT
TUFFAK Lumen XT polycarbonate sheet is a translucent product with a textured surface on one side specifically designed for lighting lenses. It features a unique combination of high light diffusion and high light transmission through a combination of optimized surface texture and advanced diffuser technologies. TUFFAK Lumen XT Sheet has superior impact strength and toughness. Its higher flammability resistance and wider service temperature range provide an additional performance advantage over other thermoplastic diffusers. The wide range of standard diffusion levels in both a warm (LW) or a cool (LC) hue offers designers the flexibility to maximize light fixtures' aesthetics and performance. The terms of the TUFFAK Lumen XT Limited Product Warranty is available upon request.
THICKNESS

.060" – .118"

WIDTH

48" – 96"

LENGTH

96" – 96"
Translucent
Indoor
Outdoor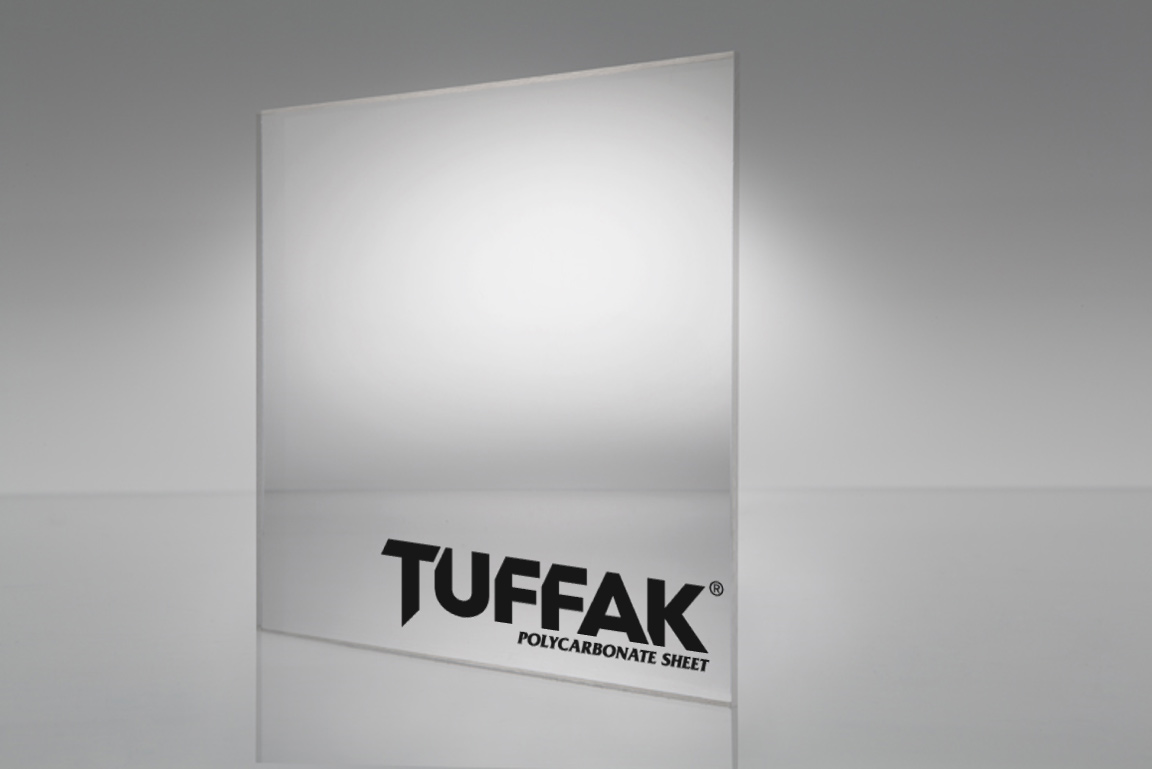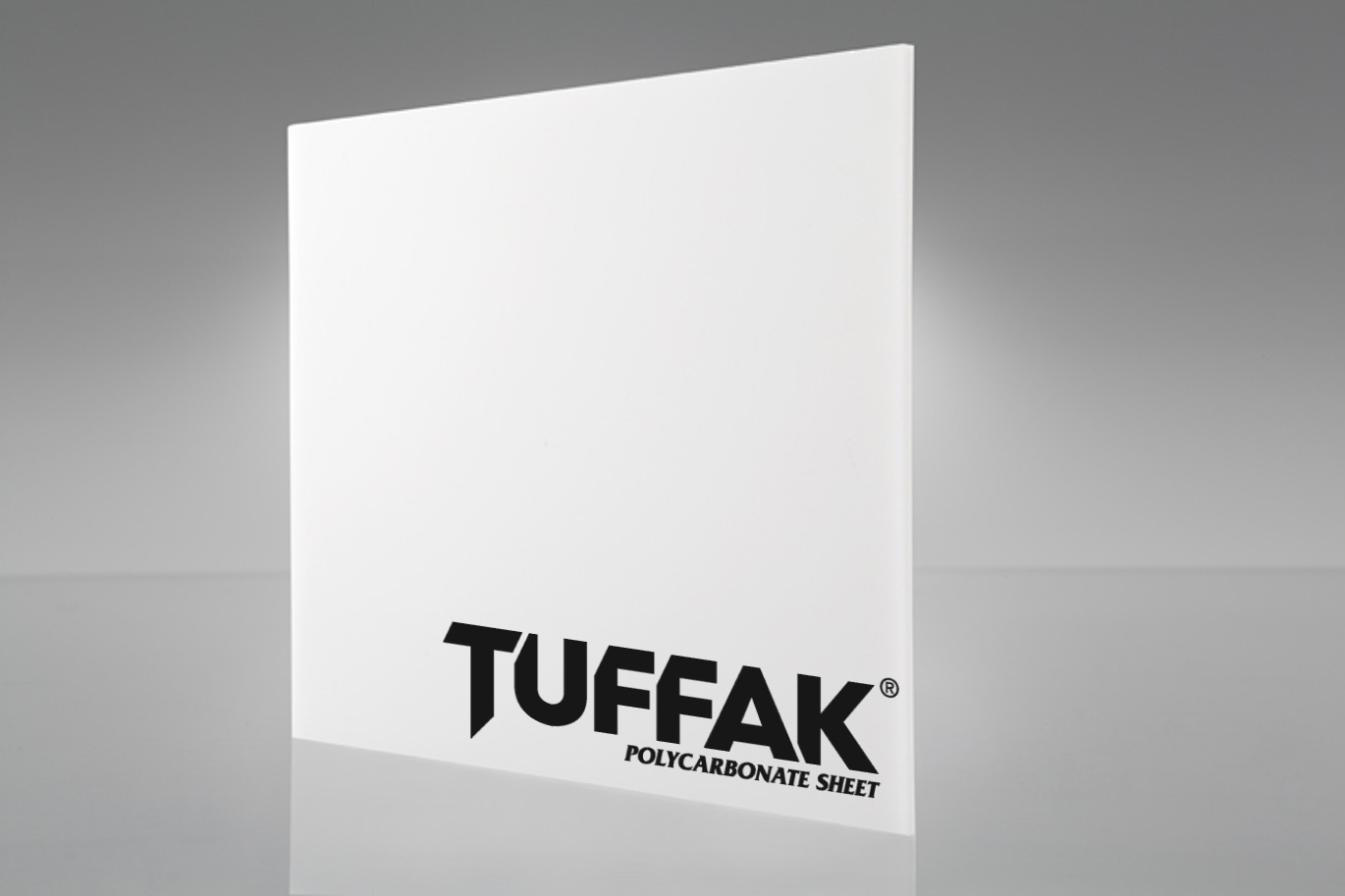 AVAILABLE COLORS
Custom colors available.
*Colors on screen may not reflect exact matches to physical sheets.
*Non-Stock colors, patterns or sizes may require a minimum quantity order.
Features & Benefits
High light diffusion and light transmission
Higher flammability resistance
Wider service temperature range
| ITEM # | COLORS | PATTERN/TEXTURES | MASKING | THICKNESS (in.) | SIZE (in.) | SQ FT | PACK QTY | SKID QTY | REQUEST |
| --- | --- | --- | --- | --- | --- | --- | --- | --- | --- |
| 58492845 | White Lumen Cool LC3 | Textured | No Masking / Plain Masking | .060 | 48" x 96" | 4608 | | | |
| 58492853 | White Lumen Cool LC5 | Textured | No Masking / Plain Masking | .060 | 48" x 96" | 4608 | | | |
| 58492861 | White Lumen Cool LC7 | Textured | No Masking / Plain Masking | .060 | 48" x 96" | 4608 | | | |
| 58492888 | White Lumen Cool LC3 | Textured | No Masking / Plain Masking | .060 | 48" x 96" | 4608 | | | |
| 58492950 | White Lumen Cool LC5 | Textured | No Masking / Plain Masking | .060 | 48" x 96" | 4608 | | | |
| 58493019 | White Lumen Cool LC7 | Textured | No Masking / Plain Masking | .060 | 48" x 96" | 4608 | | | |
| 83284057 | White Lumen Warm LW9 | Textured | No Masking / Plain Masking | .060 | 48" x 96" | 4608 | | | |
| 83850443 | White Lumen Warm LW3 | Textured | No Masking / Plain Masking | .060 | 48" x 96" | 4608 | | | |
| 83850486 | White Lumen Warm LW7 | Textured | No Masking / Plain Masking | .060 | 48" x 96" | 4608 | | | |
| 83850516 | White Lumen Warm LW5 | Textured | No Masking / Plain Masking | .060 | 48" x 96" | 4608 | | | |
| 83856611 | White Lumen Warm LW3 | Textured | No Masking / Plain Masking | .060 | 48" x 96" | 4608 | | | |
| 83858398 | White Lumen Warm LW5 | Textured | No Masking / Plain Masking | .060 | 48" x 96" | 4608 | | | |
| 83858479 | White Lumen Warm LW7 | Textured | No Masking / Plain Masking | .060 | 48" x 96" | 4608 | | | |
| 83858541 | White Lumen Warm LW9 | Textured | No Masking / Plain Masking | .060 | 48" x 96" | 4608 | | | |
| 84832422 | White Lumen Cool LC3 | Textured | No Masking / Plain Masking | .060 | 48" x 96" | 4608 | | | |
| 84832635 | White Lumen Warm LW5 | Textured | No Masking / Plain Masking | .060 | 48" x 96" | 4608 | | | |
| 85292472 | White Lumen Cool LC7 | Textured | No Masking / Plain Masking | .060 | 48" x 96" | 4608 | | | |
| 85292499 | White Lumen Cool LC5 | Textured | No Masking / Plain Masking | .060 | 48" x 96" | 4608 | | | |
| 85353102 | White Lumen Cool LC3 | Textured | No Masking / Plain Masking | .060 | 48" x 96" | 4608 | | | |
| 85353129 | White Lumen Warm LW5 | Textured | No Masking / Plain Masking | .060 | 48" x 96" | 4608 | | | |
| 85353137 | White Lumen Warm LW3 | Textured | No Masking / Plain Masking | .060 | 48" x 96" | 4608 | | | |
| 85599179 | White Lumen Cool LC0 | Textured | No Masking / Plain Masking | .060 | 48" x 96" | 4608 | | | |
| 85599217 | White Lumen Cool LC0 | Textured | No Masking / Plain Masking | .060 | 48" x 96" | 4608 | | | |
| 87380018 | White Lumen Warm LW5 | Textured | No Masking / Plain Masking | .060 | 48" x 96" | 4608 | | | |
| 58492810 | White Lumen Cool LC3 | Textured | No Masking / Plain Masking | .118 | 48" x 96" | 4608 | | | |
| 58492829 | White Lumen Cool LC5 | Textured | No Masking / Plain Masking | .118 | 48" x 96" | 4608 | | | |
| 58492837 | White Lumen Cool LC7 | Textured | No Masking / Plain Masking | .118 | 48" x 96" | 4608 | | | |
| 58492926 | White Lumen Cool LC3 | Textured | No Masking / Plain Masking | .118 | 48" x 96" | 4608 | | | |
| 58492985 | White Lumen Cool LC5 | Textured | No Masking / Plain Masking | .118 | 48" x 96" | 4608 | | | |
| 58493043 | White Lumen Cool LC7 | Textured | No Masking / Plain Masking | .118 | 48" x 96" | 4608 | | | |
| 83850427 | White Lumen Warm LW9 | Textured | No Masking / Plain Masking | .118 | 48" x 96" | 4608 | | | |
| 83850451 | White Lumen Warm LW3 | Textured | No Masking / Plain Masking | .118 | 48" x 96" | 4608 | | | |
| 83850508 | White Lumen Warm LW7 | Textured | No Masking / Plain Masking | .118 | 48" x 96" | 4608 | | | |
| 83850524 | White Lumen Warm LW5 | Textured | No Masking / Plain Masking | .118 | 48" x 96" | 4608 | | | |
| 83856557 | White Lumen Warm LW9 | Textured | No Masking / Plain Masking | .118 | 48" x 96" | 4608 | | | |
| 83858428 | White Lumen Warm LW3 | Textured | No Masking / Plain Masking | .118 | 48" x 96" | 4608 | | | |
| 83858444 | White Lumen Warm LW5 | Textured | No Masking / Plain Masking | .118 | 48" x 96" | 4608 | | | |
| 83858460 | White Lumen Warm LW7 | Textured | No Masking / Plain Masking | .118 | 48" x 96" | 4608 | | | |
| 84832643 | White Lumen Warm LW5 | Textured | No Masking / Plain Masking | .118 | 48" x 96" | 4608 | | | |
| 85348214 | White Lumen Warm LW3 | Textured | No Masking / Plain Masking | .118 | 48" x 96" | 4608 | | | |
| 85348257 | White Lumen Warm LW5 | Textured | No Masking / Plain Masking | .118 | 48" x 96" | 4608 | | | |
| 85599152 | White Lumen Cool LC0 | Textured | No Masking / Plain Masking | .118 | 48" x 96" | 4608 | | | |
| 85599241 | White Lumen Cool LC0 | Textured | No Masking / Plain Masking | .118 | 48" x 96" | 4608 | | | |
| 87444792 | White Lumen Warm LV5 | Textured | No Masking / Plain Masking | .118 | 48" x 96" | 4608 | | | |
| 87444814 | White Lumen Warm LV7 | Textured | No Masking / Plain Masking | .118 | 48" x 96" | 4608 | | | |
| 87445012 | White Lumen Warm LV3 | Textured | No Masking / Plain Masking | .118 | 48" x 96" | 4608 | | | |