TUFFAK WG
TUFFAK WG polycarbonate engineering plate is an optically clear, low stress window grade sheet ideally suited for heavily fabricated, tight tolerance parts. It features extremely high impact strength, high modulus of elasticity, outstanding dimensional stability, and good electrical properties. TUFFAK WG engineering plate has a heat deflection temperature 270°F (132°C) at 264 psi, and demonstrates low levels of black specks and other impurities.
THICKNESS

.750" – 2"

WIDTH

48" – 96"

LENGTH

96" – 96"
Transparent
Indoor
Outdoor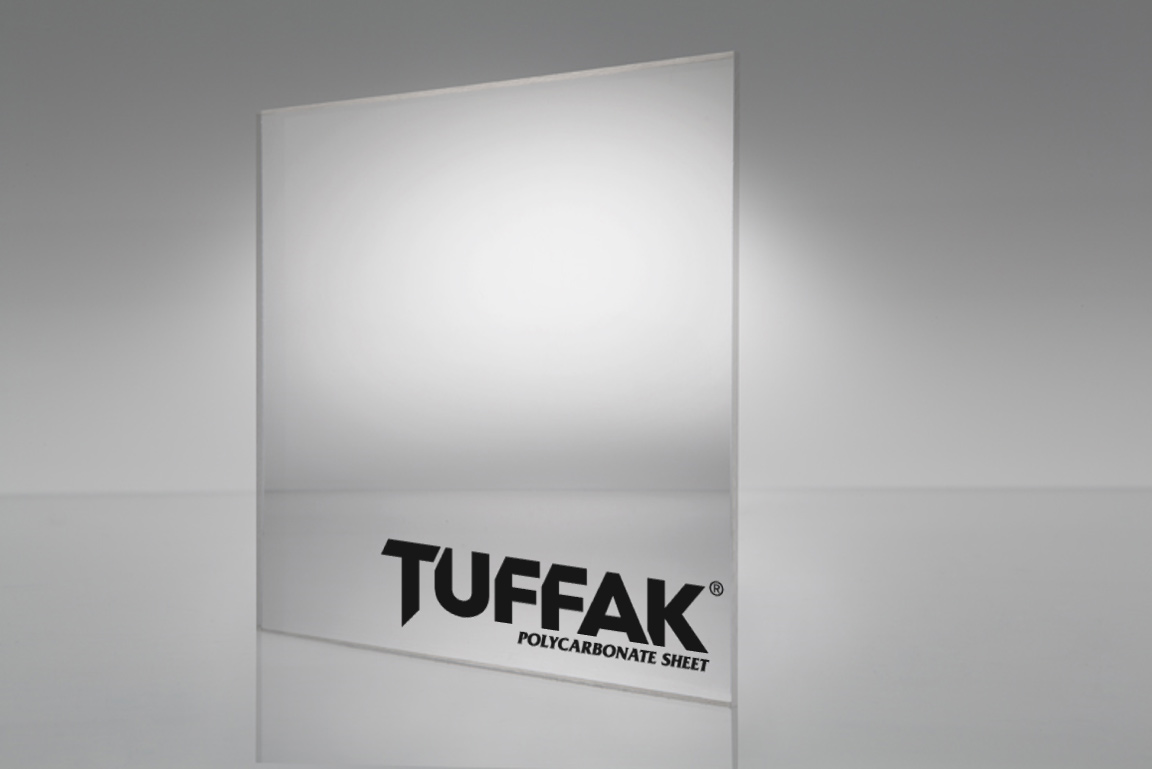 AVAILABLE COLORS
Custom colors available.
*Colors on screen may not reflect exact matches to physical sheets.
*Non-Stock colors, patterns or sizes may require a minimum quantity order.
Features & Benefits
Low levels of black specks or other impurities
Amorphous thermoplastic sheet
Extremely high impact resistant
Outstanding dimensional stability
| ITEM # | COLORS | PATTERN/TEXTURES | MASKING | THICKNESS (in.) | SIZE (in.) | SQ FT | PACK QTY | SKID QTY | REQUEST |
| --- | --- | --- | --- | --- | --- | --- | --- | --- | --- |
| 58101064 | Clear | | Paper Masking - 2 sides | .750 | 48" x 96" | 4608 | | | |
| 84927342 | Clear | | Vendor Supplied Masking | .750 | 48" x 96" | 4608 | | | |
| 58101129 | Clear | | Paper Masking - 2 sides | 1 | 48" x 96" | 4608 | | | |
| 84927377 | Clear | | Vendor Supplied Masking | 1 | 48" x 96" | 4608 | | | |
| 58101196 | Clear | | Paper Masking - 2 sides | 1.250 | 48" x 96" | 4608 | | | |
| 84927369 | Clear | | Vendor Supplied Masking | 1.250 | 48" x 96" | 4608 | | | |
| 58101269 | Clear | | Paper Masking - 2 sides | 1.500 | 48" x 96" | 4608 | | | |
| 84927350 | Clear | | Vendor Supplied Masking | 1.500 | 48" x 96" | 4608 | | | |
| 58101390 | Clear | | Paper Masking - 2 sides | 2 | 48" x 96" | 4608 | | | |
| 84927288 | Clear | | Vendor Supplied Masking | 2 | 48" x 96" | 4608 | | | |